The 2004 Senior Open
and
a Birthday Party
The US Senior Open is traditionally blessed with wonderful players who enjoy competition and the camaraderie of old friendships renewed. Holding the Senior in conjunction with Arnold Denker's 90th birthday celebration seemed logical and turned out to be a good match in every way.
The Planning
My wife Teresa and I considered dozens of hotels as potential tournament sites before choosing the Boca Raton Renaissance Hotel. To add further prestige to the Senior Open, I contacted Erik Anderson, President of the America Foundation for Chess, and got him to agree to provide a qualification spot from the Senior to the US Invitational Championship. This assured us that a good number of strong players would be competing. To attract local media interest, I prevailed upon Boca Raton Mayor Steven Abrams to proclaim the week of June 7 to June 12, 2004 as Boca Raton Senior Chess Championship Week. To make sure all the chess playing events ran smoothly, I recruited America's premier TD, Carol Jarecki.
We needed a full plate of ancillary events to bring players to the site and to help meet our hotel room night obligations so I decided to precede the Senior with the US Game/30 Championship and sandwich in between a blitz, a doubles and a handicap tournament. I also recruited Russian GM Yuri Averbakh to host two seminars. I initially planned on combining the Senior Open closing ceremony with Arnold Denker's 90th birthday party but after some thought chose to separate them lest each one take a little from the other. In order for our visitors to have time to see the Hall of Fame in Miami, I scheduled the closing ceremonies there and hired a bus to transport the players the 51 miles from the hotel to the Hall of Fame and back to the hotel.
We paid attention to details such as hanging name tags, specially designed score sheets, and Internet coverage of the top games. All games were played on special vinyl chess boards printed with the wording: GM Arnold Denker, Dean of American Chess – June 11, 2004. Thanks to the sponsorship of Excalibur Electronics, at the start of each round, we had a drawing where we gave away an Excalibur Chess Timer II to one of the players.
On top of all this, I was the host for the 2004 FIDE Verification Commission which would take place while the Game/30 Championship was being played. I also arranged for the entire event, including the workshops, to be filmed. A great deal was on the table, so when the first event began, I expected it to go off with a bang. It didn't; it began with a loud thud!
US Game/30 Championship
Sometimes, my wife will say it's often, I overcomplicate things; I overcomplicated the Game 30. In order to accommodate both those who wanted this tournament to be regular rated and those that wanted it quick rated, I made a Solomon-like-NOT decision and decided to do both and the split baby bled all over me. I decided that for the first five rounds there would be two sections that would be merged for the final two rounds. One section was to be played at Game 30 and the other at game 29. The Game 30 section would be regular rated and the game 29 section quick rated. The last two rounds were to be played at Game 30 but would be both regular and quick rated. This may sound simple; it still does to me but to many players it wasn't. Some misunderstood and registered for the wrong section. As a result, the pairings had to be redone three times.
By the time the round was to begin, everyone seemed upset. We were off to a very bad start. Was this going to be another Delaware-like disaster? In order to get everyone back on the happy track, I announced that since the delay in getting started was my fault, in addition to the Excalibur clock that was given away at the start of each round, the first round winners could keep the playing board and, if the game was drawn, the players could choose between themselves who got the Board. Each Board could become a collector's item as it had printed on it: "GM Arnold Denker – Dean of American Chess – June 11, 2004." Arnold would officially have this title awarded to him at a special banquet later in the week and would certainly autograph the Boards upon request. To my surprise, as soon as I made the announcement, smiles returned and remained throughout the rest of the week.
In the tournament, Florida State Champion International Master Renier Gonzales, tied with expert Surya Kotha of Virginia with 6 points and Renier won the national Game 30 title on tie breaks. Chinese Women Grandmaster Tian Tian came in third with 5½ points followed by future US Senior Champion Floridian FIDE Master Fabio La Rota, International Master Blas Lugo and 12-year old Jeffrey Haskel of Boca Raton each with 5 points. International Masters Tony Saidy, Roman Pelts and Larry Kaufman finished 13th, 18th and 30th respectively. Chinese International Master Ji Yungi finished 13th. Boca Raton's 5 year-old child prodigy Landon Tice who, although finishing 49th, demonstrated a genius and love for the game. We will be hearing more from young Landon.
More will also be heard from Surya Kotha if not over the Board then in USCF organization. This young man is immensely talented and has the contacts and skills necessary to help in USCF's quest for corporate sponsors. USCF President Beatriz Marinello and I are already working on a major sponsorship possibility thanks to a door opened for us by Surya.
Blitz and Handicap Tournaments
It is traditional to have a Blitz Tournament on the eve of opening of major tournaments. The Blitz Tournament the night before the start of the Senior was unusually strong. Seven of the 23 players were rated over 2300 and ten over 2200. Only five were rated under 2000, one of whom had a 1987 rating. The tournament was a Double-Five-Round-Swiss, thus each player played ten games. Four players scored 7½ – 2½ and tied for first place. They were: Canadian FIDE Master Roman Pelts, International Masters Larry Kaufman, Victor Adler and Woman Grandmaster (WGM) Tian Tian. There were no age limitations for the 2004 Senior Open Blitz Championship and Boca Raton's young star Jeffrey Haskel who did so good in the Game 30 duplicated that stellar performance in the Blitz tournament; he tied with FIDE International Masters Anthony Saidy for 5th and 6th place. Jeffrey scored 6½ – 3½ with a performance rating of 2300 plus against five opponents with ratings of 2247, 2120, 2331, 2200 and 2011! Congratulations, Jeffrey!
The other side tournament was a handicap event based on time. This was a fun tournament and called the 2nd Rose Memorial. The 1st Rose Memorial Handicap took place in 1995 in Kuala Lumpur, Malaysia, and was organized by international patron, Dato Tan Chin Nam, to honor the wife of Lim Kok Ann the longtime General Secretary of FIDE. I played in that event and liked the idea of carrying that tradition forward with the 2nd Rose Memorial. The Handicap was determined by adjustments based upon the difference in the players ratings. For example, if the difference was less than a 100 points, the time was Game/15 for both players, a difference between 100 and 199 rating points resulted into time limits of 8 minutes for the higher player and 15 minutes for the lower player. The tournament was well received and IM Larry Kaufman won the twelve player, round-robin tournament with 10½ points followed by WGM Tian Tian with 8 points and past FIDE President Florencio Campomanes with 7 points. Campomanes had played in the 1st Rose Memorial and finished second.
There was little interest by players in the doubles tournament so I was forced to cancel it. Nevertheless I remain steadfast in my belief that there is a future for doubles chess.
Chinese Matches
A few months before the tournament, I received an email from Ji Yungi of the Qingdao Chess Center, Shandong, China. He was a chess instructor and a Chinese International Master; he was coming to play in the Senior with three of his students. The communication was very difficult because he spoke no English. When Ji and his students arrived, it turned out there were only two student players not three, the other lady was a violin player. Why she came with Ji was never explained.
En route to Miami, the Chinese group had a six-hour delay at Los Angeles causing their Miami arrival time to slip to about 2:30 AM. I had a driver meet them at the Miami airport and was there to welcome them at their 3:30 AM arrival at the Boca Renaissance hotel. Helping four people who spoke no English register at the hotel was a challenge but we did it and I'm not sure how.
Because of age, Ji was the only one of the three Chinese players eligible to play in the Senior. But the others played in the Game/30, Blitz and the Handicap. The Chinese did well especially the 21 year-old Tian Tian, who tied for first in the Blitz, came in a clear second in the Rose Memorial Handicap and finished third in the Game/30. I also arranged two USA versus China matches between a local team and the Chinese. One of the matches was against the Miami International Chess Academy and the other against the Hall of Fame. The Chess Academy beat the Chinese 5½ to ½ and the Hall of Fame beat the Chinese 4½ to 1½. WGM Tian Tian scored all the points for the Chinese group playing International Master Blas Lugo who played both for the Academy and the Hall of Fame Teams. Jeffrey Haskel playing for the Academy and Al Lawrence playing for the Hall of Fame beat the 11 year-old Shi Leitianyi.
The matches were fun and a nice diversion; the games were played with Chinese and USA flags on display at the boards as is the case in major international competitions. After the Hall of Fame match, Al Lawrence presented each member of the Chinese group a gift of a H of F shirt and various other H of F items.
Seminars and Press Conference
Bringing Grandmaster Yuri Averbakh to the Senior Open and Arnold's party contributed greatly to the success of the event but his arrival in Miami almost was a horrendous mix-up. I had told Yuri on the phone that I would arrange to have someone meet him and that the person would carry a sign saying Averbakh. But when Yuri arrived, no one was there to meet him and no sign was in sight. Yuri said he was concerned and didn't know what to do. But just then the man with the sign arrived. What had happened is that Chris Goldthorpe was there on time to meet Yuri who was arriving via Zurich on a Swiss Air flight. But there was another Averbakh on that same plane and Chris made contact with him and the mistake wasn't realized until Chris was ushering the man into his car in the parking lot.
Yuri gave two seminars one on chess history and the other on developing your chess. My organizational duties prevented me from attending them. I was there, however, to hear IM Tony Saidy's wonderful introduction of Yuri. I never fully realized what an enormous talent Yuri is. When he first won the Soviet Championship, with all those great players Smyslov, Botvinnik, Petroysan, Brownstein, Keres, etc., competing in a 22 player round robin, Yuri won the tournament in a walk going undefeated. His seminars were no less impressive. Those that went came to me and said: "It would have been well worth the trip to Florida solely to attend the Averbakh seminar!"
In another seminar, Roman Pelts of Canada, one of the world's premier chess teachers, gave a lecture for chess instructors on the different ways to teach chess to the different levels of students. I heard part of Roman's lecture and it was marvelous.
All the activities kept one upping each other. Now the press conference was the one activity for which I had low expectations; I had considered canceling it. I was pleasantly surprised. Local newspapers had reporters present. Two candidates for the Executive Board, Mikhail Korrenman and Elizabeth Shaughnessy gave short speeches and answered a few questions. Boca Raton's five-year old chess prodigy Landon Tice was introduced. Then began a lively discussion on FIDE and especially the controversial world championship in Libya, controversial because of the question of Jewish and Israeli participation. They could come. They couldn't. They could but their wives couldn't. First GM Jan Timman answered the questions and was very critical of FIDE's leadership. Then the controversial former FIDE President Florencio Campomanes, did his best to defend FIDE from some very difficult and on the mark criticisms. The meeting ended with Campo giving a speech on what the USA needed (in his opinion) to do to better promote chess. His closing word were: "Each of you here is a potential organizer of a world championship, an Olympiad."
The Denker Party
The highlight of the week was Grandmaster Arnold Denker's 90th birthday party. Seventy-seven people attended. Representatives of the chess and non-chess press were there as well as the video photographer who was filming all the week's activities. Everyone was given a four-page program and therefore knew what to expect. Seating was preassigned and the assigning of who sat with whom was no easy task.
I opened the evening with a brief introduction and called to the podium Arnold and the past USCF Presidents who were present (John McCrary, Harold Winston, Bob Smith and Tim Redman). We then presented Arnold with a beautiful plaque proclaiming him by Executive Board vote: "Dean of American Chess."
A special letter of congratulations from Dato Tan Chin Nam of Malaysia, whose contribution helped make the party possible, was read to Arnold.
Past USCF President John McCrary gave a short speech on the history of the Dean of American Chess. Arnold is only the third Dean of American Chess. The other two were Hermann Helms and George Koltanowski.
At Arnold's dinner table were six Denker family members: Arnold, his oldest son Richard, daughters-in-law Ellie and Jaygee, grandchildren Dylan and Jana, Arnold's friends: Joe Wagner, Bill Church, Mary Church and GM Jan Timman
After the salad, Floridian John Haskel read a letter from the scholastic community highlighting Arnold's many contributions to scholastic chess, most notably the Denker Tournament of High School Champions. Haskel presented Arnold with a specially designed medal with Arnold's name engraved on it. Duplicates of that medal will be given to every participant of the 2004 Denker Tournament of High School Champions that will be held in Ft. Lauderdale at the US Open this August.
Harold Winston, Chair of the US Chess Trust, and Trust Executive Director, Barbara DeMaro, spoke and gave Arnold gifts on behalf of the Trust. Barbara gave a plaque showing a Chess Review cover picture of Arnold fifty years ago and Harold presented a plaque showing the names of all the winners of the Denker High Championships. Al Lawrence expressed, in a short speech, congratulations from the Hall of Fame.
Grandmaster Yuri Averbach gave congratulations from Spain. He attended the annual Chess Collector's International convention and had messages from many of Arnold's friends: Roman Toran, Joaquim Durao, Dr. George Dean, etc. Yuri, of course, told several anecdotal stories involving Arnold.
The main course was excellent with choices among Chicken Piccata, thinly sliced Flank Steak or a special vegetarian dish of grilled vegetables served over a bed of Angel Hair Pasta but the standout in the food area was the chess cake extraordinaire. The very first thing I told the hotel when arranging the event was that I wanted the best 90th birthday cake possible and money was no object (within reason). I actually researched the Internet and found a superbly designed chess cake. There was a picture of it in a Philippine newspaper. It was the 75th birthday cake for Florencio Campomanes. I met with the baker and gave him that picture and said: "Use this as a guide and make sure you improve upon it."
I gave the cake a special introduction and, as planned, on my closing words it was wheeled directly in front of the podium. Immediately dinner guests, cameras in hand, rushed forward and began taking pictures of the cake. It tasted as good as it looked.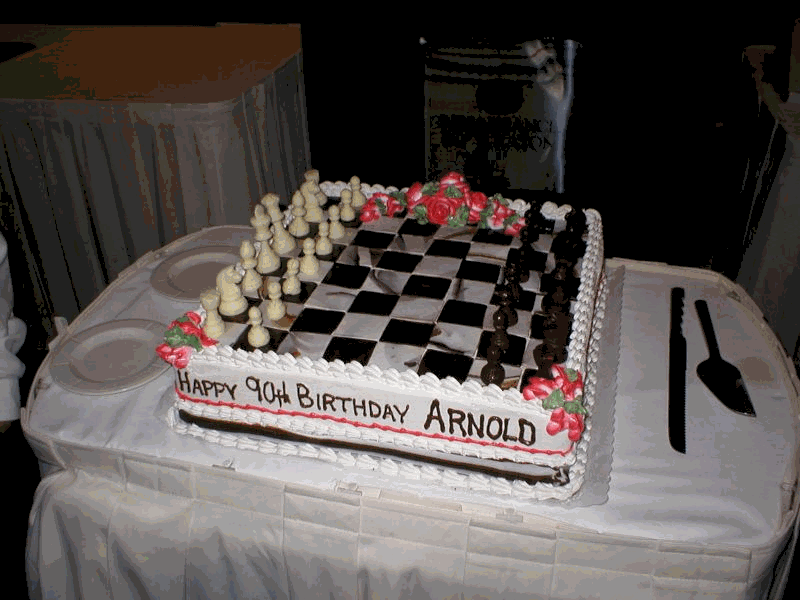 As we had dessert, Campomanes gave congratulations on behalf of FIDE in a speech reminiscent of the old Campo – well delivered and recognition of those to whom he spoke. The banquet was closed with a few words from Richard Denker.
Arnold was overwhelmed with emotion and was very, very happy. I don't think the celebration could have gone any better. Afterwards, Arnold told me how pleased he was that this person or that person came to his party. So thank you all who came, you made our Dean of American Chess a very happy man.
The 2004 Senior Open
For the first time, the US Senior Open was given a qualifying spot for the US Championship. Nine players paid their qualification fee of $75 to compete for this spot. FM Fabio LaRota, Florida, won both the title of US Senior Champion and the qualifying spot. In 2005 and thereafter it is anticipated the US Senior Champion will be seeded into the US Championship without the players or organizer having to pay the qualification fees.
Sixty-six players competed and the following champions were crowned:
*US Senior Champion: Fabio LaRota (Florida) won on tie breakers over IM Larry Kaufman (Maryland) and IM Victor Adler (Minnesota), all scoring five points in the six round tournament.
* US 50-54 Champion: David Rupel, Washington and Hal Terrie, New Hampshire
* US 55-59 Champion: IM Victor Adler, Minnesota
* US 60-64 Champion: Denis Strenzwilk, Maryland
* US 65-69 Champion IM Anthony Saidy, California
* US 70-74 Champion Ed Epp, Massachusetts
* US Over 75 Champion Dan Mayers, Oregon
In his last game of the tournament, Maryland master Denis Strenzwilk reached a milestone in his career — he beat me (not a big deal), but it was his 4,000th recorded rated game (a big deal). Congratulations Denis! His victory over me gave him the US Senior Champion (60 to 64 category).
The closing ceremonies were at the Hall of Fame in Miami. I brought the wine and the H of F provided the hors d'ouevres. I had given special thought to the trophies. For first place, I had a very fine chiming mantel clock with the words "2004 US Senior Champion" engraved. Several weeks later, the champion, Fabio LaRota contacted me to tell me how much his wife liked the clock. For the age Champions, I had marble engraved obelisks. It was special for these seniors who have played chess all their lives to be a US Champion and the obelisks were like their Oscars. They appreciated them like the scholastic children love their glittering two/three feet high trophies.
The Senior Open is my farewell to organizing major chess events. I simply am getting too old and it is too much work and responsibility. I will always remember the 2004 Senior Open as the tournament with the very finest chess people playing. Don't get me wrong, I think most tournament players are fine people but the players at the 2004 US Senior Open were special.
In closure, I extend special thanks to my wife Teresa, TD Carol Jarecki, Jon Haskel, Jeffrey Haskel, Chris Goldthorpe and Gabrielle Carleen for all their help. Also a thank you to the Renaissance hotel staff led by Jay Van Splinter; it was a pleasure to work with them.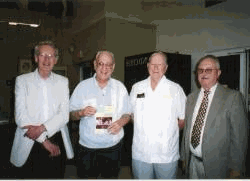 Denis Strenzwilk (2200) – Schultz,D (2000)
My game against Donald Schultz was my 4,000 th game and I have all the game scores in my computer! 3,955 games are over-the board, 39 games are correspondence, and I played 6 games in Simultaneous Exhibitions against Paul Keres, Bent Larsen, James Sherwin, etc. — Denis Strenzwilk
1.e4 Nf6 2.e5 Nd5 3.d4 d6 4.c4 Nb6 5.f4 dxe5 6.fxe5 Bf5 7.Nc3 e6 8.Be3 Bb4 9.Nf3 Bxc3+ 10.bxc3 h6 11.Be2 c5 12.0-0 Nc6 13.a4 a5 14.dxc5 Nd7 15.Nd4 Ndxe5 16.Nxf5 exf5 17.Rxf5 Qxd1+ 18.Rxd1 Rd8 19.Rd5 f6 20.Rf1 0-0 (White 1:20 Black 0:51 40 Moves in 2 hours. Then, sudden death in one hour.) 21.Bd4 Rfe8 22.Rb1 Re7 23.Kf2 Kf7 24.h3 g6 25.Bxe5 fxe5 26.Ke3 Rde8 27.Bg4 h5 28.Bd7 Rf8 29.Rxb7 (White 1:24 Black 1:16) 1-0